PKR Poker – A Totally Different Way to Play Online Poker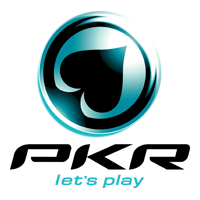 Are you looking for something in your online poker experience that your games feel like they've been missing until now?  Do you want to feel like you're actually in the game, instead of playing with a computer?  Are you looking for an online poker room that puts you right in the center of all the activity and still gives you the benefits and winnings that you really want?
PKR Poker knows that online poker can be fun, exciting and can even help you to reap the rewards of being a great player, but they also know that online poker is a lifestyle.  There is a certain amount of glitz and glam that goes with being a poker player, but if you're playing all your games online, it's pretty likely that you're missing out on the most exciting part of the game:  the experience of being in the same room with all the tension, excitement and nervousness that being in a poker tournament can offer.
Unlike other online poker rooms
Other poker rooms might offer great tournaments with excellent jackpots.  They might also offer lots of active tables, players, tools and rewards.  Maybe you're thinking that other online poker rooms even help you to win cash, when you're not winning your games and that's reason enough to stay at your current online poker room.  Maybe it is, but then again, maybe you want something more than to just look at a table with cards on them.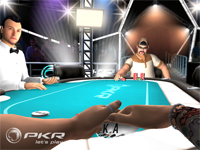 If you're a poker player, you know that the way you interact with the other players at the table will help to set the mood, allow you to have more fun and can even be a pretty big giveaway as to how your game is going.  PKR Poker allows you to make your own avatar, so you get the look that you really want, when you want.  Then, they take it a step further and give you emotional options, so if you want to make your opponents think you've got a bad hand, you can toss out a growl, but if you're feeling confident and want everyone at the table to know, you can show that as well.
This new dimension allows every PKR player to really feel like they are at a tournament.  The locations are great – set all around the world and come complete with the lights and setting that you crave.  You can check out the game as a spectator, view your hand and what's going on around you and interact with the other players, and that makes for a more exciting experience that many online poker players have been missing until now.
From no cost to high stakes
Another thing that sets PKR apart is that there are options for every player, and every budget.  Maybe you're running with a relatively small bank roll right now.  Not to worry – you can still enjoy some great online poker, and might be able to win a little something in the process, but if you've got some money and you want to play like a pro – well; PKR has that to offer you as well.  So you have limitless choices and the ability to play your way, when you want to.
PKR.com knows that not everyone wants to put everything they have on the line, but they are also aware that there are players that have a large bank roll and really want to enjoy high stakes tournaments.  That's why they make sure to offer something for everyone, so you don't have to look elsewhere for a great game.
Players will also love the big tournaments, which feature the complete 3D experience.  The stakes are high, and PKR knows you're going to love the feeling of really being there – no matter what part of the world you're actually in.
What about the rewards?
Now, you're a poker player, but you know that the rewards and bonuses are what really makes a poker room stand out – and PKR Poker is no exception.  No matter how great the experience, you need to be able to enjoy some rewards.  The beauty part of this poker room is that the rewards are clear-cut and easy to understand.  Got a little bit of points?  Get a little reward – got a lot of points?  Get a big reward.  It's simple and easy to understand, and that's something that lots of players love.  It saves you from trying to understand a complicated point system and gets you to enjoying the rewards that you've earned sooner.
It all starts with the sign on bonus, and it goes from there.  Plus, even though you can enjoy an easy to get bonus, you're also going to get other rewards – just for making your first deposit.  Prize entries for cash, an upgrade and points for your avatar are just a few of the perks that you'll enjoy.
There are lots of places that online poker players can choose to play the game.  There are lots of rewards, tournaments and types of game play out there.  Some sites are big on high rollers and some sites know that even the newbie likes to play in tournaments, but there aren't many that make you feel like a professional whenever you sit down to a game, and very few can run the full range of types of games that you can buy into in just one site.
PKR Poker knows that different players have different needs and they've created a wonderful way for every player to enjoy the experience.  So, whether you're new to the game and just looking for a great place to learn the ropes and play your way, or you're a high roller with big intentions, PKR.com might just be the site for you.
You can play your next tournament staring at your cards all night long and feeling like you're playing against your computer or you can feel as if you're really in the game, playing against real people, in a real location.  Isn't it time to add a little excitement to your poker game for a change?
Interested, curious, or just want to learn more about PKR Poker? We have found the most detailed review about PKR on www.pokerbonuscodeonline.net, besides our own unbiased review about PKR of course.