Have You Heared about the Lucky Ace Before?
Lucky Ace Poker (and its corresponding site, Lucky Ace Casino) is perhaps one of the most underrated online gambling sites available.  There are constant tournaments and countless incentives to join Lucky Ace, yet most people seem not to know about the site.  This article is here to shed some light on this hidden internet gem and all that it has to offer.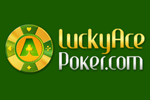 Lucky Ace Poker is unavailable in countries with stringent regulations prohibiting gambling (like the United States and Italy) as it is owned by 888poker, which pulled out of those markets a long time ago.  With the backing of 888 poker, though, Lucky Ace patrons can rest assured that they're in good and experienced hands that know what a player wants.  Lucky Ace uses the 888 software, which is well-known for being user-friendly and well-created.
One of the best things about Lucky Ace Poker is its size.  While the larger sites (Party Poker, PokerStars, Full Tilt Poker, 888poker, etc.) have almost a hundred thousand players online at any given time, giving you plenty of people to play with, these sites are also dominated by incredibly strong players, and if you're a new player trying to improve or an experienced player trying to increase your bankroll, you always have to be wary of encountering one of the site's pros.  This is not the case with Lucky Ace Poker, which has somewhere between 4,000 and 10,000 players on at most times, which means that you don't typically have to be on the lookout for poker sharks waiting to take you for a ride.  There are a lot of mid-level tables where average players will find decent competition, and those looking to improve their skills and learn to become a better player will find plenty of low-stakes rooms as well.
One of the greatest things about Lucky Ace Poker is the countless incentives that they offer.  If you refer a friend to the site, they'll put $50 in your account.  There are regular reload bonuses, reward points, which you can trade in for extra money, and seven different levels, which determine how many reward points you earn for playing in ring games.  There are freerolls for new players, people who have recently made a deposit, and new players who make their first deposit, all ranging in amounts from $1,000 to $50,000.  With a Lucky Ace Poker bonus code, you can snag the site's sign-up bonus, which matches 100% on up to $400 of your first deposit.  While this amount isn't spectacular (many other sites have far better bonuses), there's something special about Lucky Ace Poker– unlike almost online poker sites where you have to play for a long time before "unlocking" the bonus, Lucky Ace Poker gives you 25% of your bonus up front, as soon as you make your first deposit.
The sister site has the Lucky Ace Casino bonus, and a player who signs up on both sites will be able to get both bonuses.  The Lucky Ace Casino bonus is a 100% match on up to $200, with 25% being given to the user up front.