PokerForFree.org Has A New Look And Feel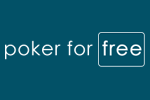 Even though there are a great number of poker sites to choose from, they can all start to look and feel quite samey after a while. It is as if someone hit upon a formula that worked to deliver great news and opinions to poker fans but then everyone else decided to copy it. This is not to criticise the many great poker sites that are available today but many players are often left wishing for something a bit different that stands out from the crowd. Free poker is always an attractive proposition for poker fans but with the new look Poker For Free site up and running, this is a great time to be an online poker fanatic.
Any player that has become slightly jaded with online poker hasn't actually lost love for the activity, they just need something new and invigorating to reawaken their love for poker. There are many great elements to online poker but it is all too easy to overlook these things if a player only visits certain sites or plays in particular games. The layout may be fresh and eye-catching but there has also been a change of thinking behind the scenes at www.pokerforfree.org which is of great interest.
A new poker challenge is vital
A player that needs to be challenged needs to know where the best challenges are and where the best tournament events can be found. The fact that tournament play allows players to pit their wits against the great and the good of the online poker community means that there is always something exciting waiting to happen. There is an unpredictable nature about poker tournaments, which is of course, a lot of its charm. It takes skill to win poker games but if the cards for a player and against their opponent; it is possible for an outsider to beat a strong favourite. Players that always play on the same poker sites may find it is always the same top players they come up against, which can lower the unpredictable nature.
Site owner, Giorgio Marrale, is a keen poker player and he understands the benefits a competitive poker site can provide to players;
"Where I once created Poker For Free with the intention to serve its visitors with information about where to play free poker games, the site eventually established itself as a site most recreative poker players have heard of. With the help of friends, as well as a few poker experts, I have made sure that the site finally became a complete resource for beginning and mediocre poker players. In fact, I know I would have loved a site such as Poker For Free when I was just learning the game of poker. It would have saved me a lot of headaches. With the new design, information is easy to find, and the free poker room serves as no better place to practice playing poker without the risk of losing any hard earned money."
Play tournaments to win
This is why the new look Poker For Free site with its updates about poker tournaments and games, is well worth staying in touch with. The site is well aware that people need new challenges or exciting diversions from their life and this is exactly what poker provides. It doesn't matter if a poker player is new to the activity or have a long history behind them, new and challenging is always going to be a positive aspect.
Anyone who is already familiar with the Poker For Free site will want to have another look at what the site has to offer. The offer of free poker games is often enough for many players to log on and have some fun but free poker is just the beginning of benefits on offer at the site. Any poker player, new or old, inexperienced or well established, looking for a new online poker home, the search may be over!